Article d'un magazine hollandaise (Avril 1900) sur Georges de Feure et le Pavillion de l'Art Nouveau Bing a l'Exposition Universelle Paris 1900.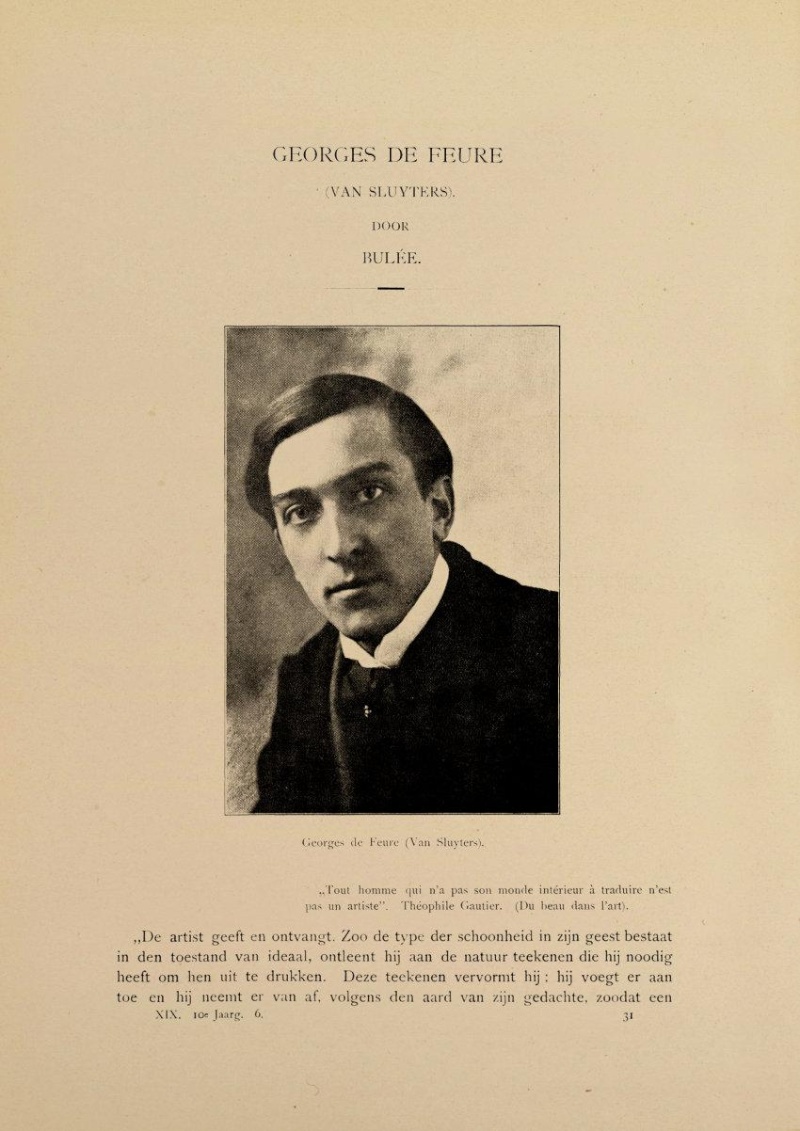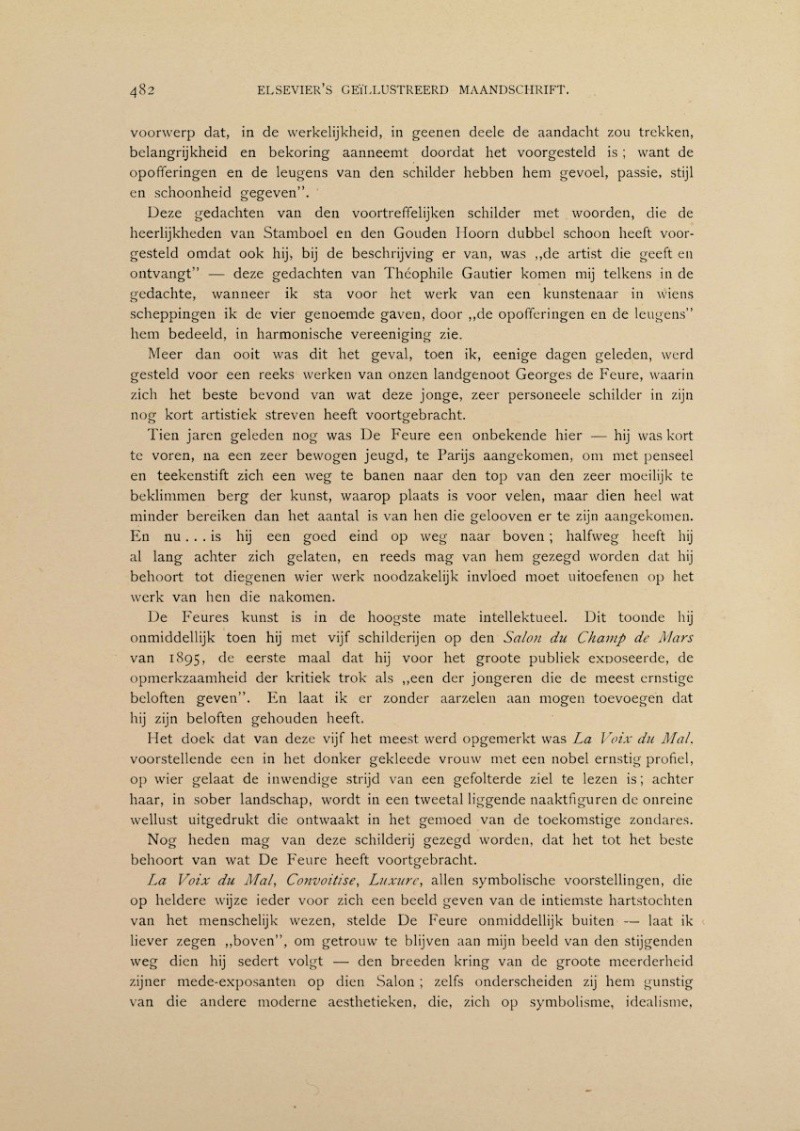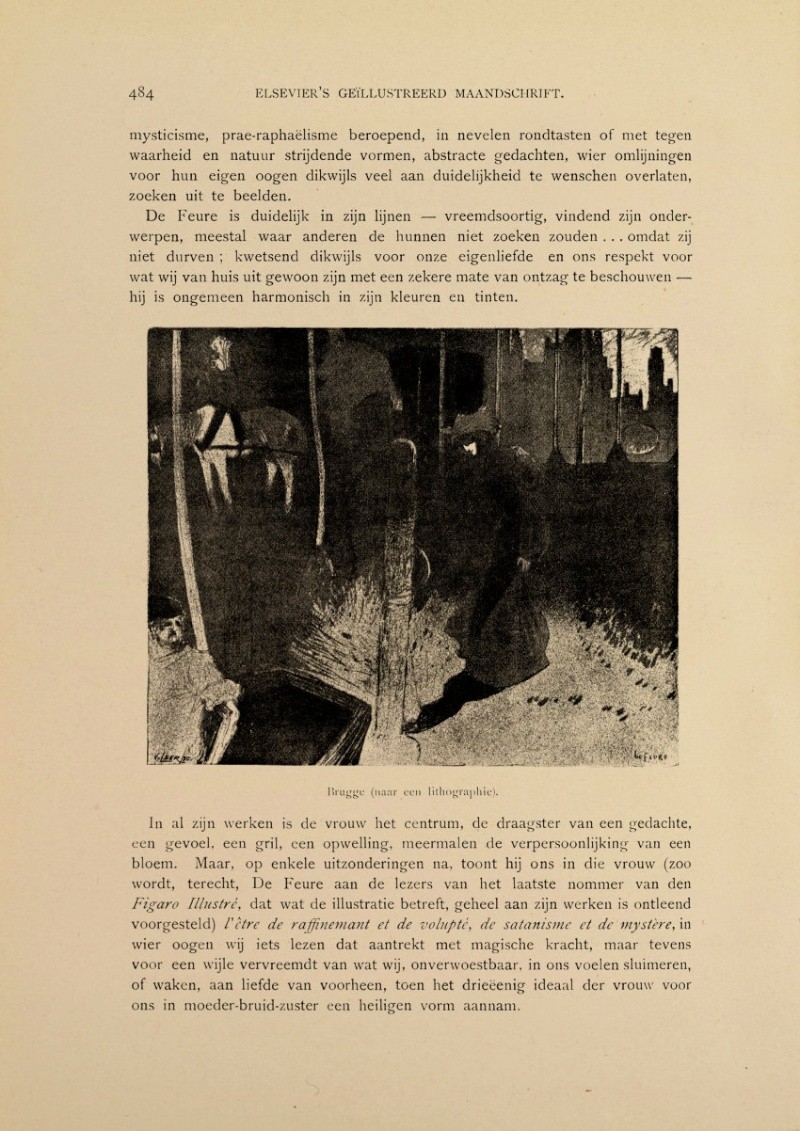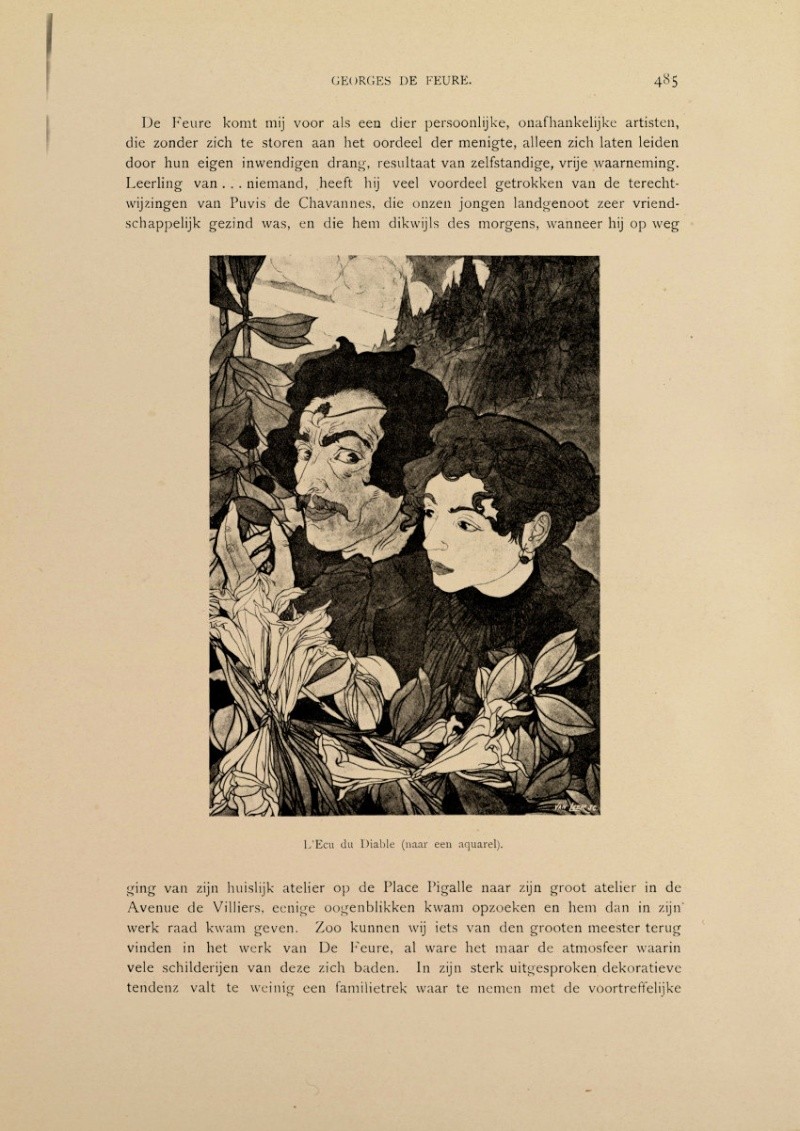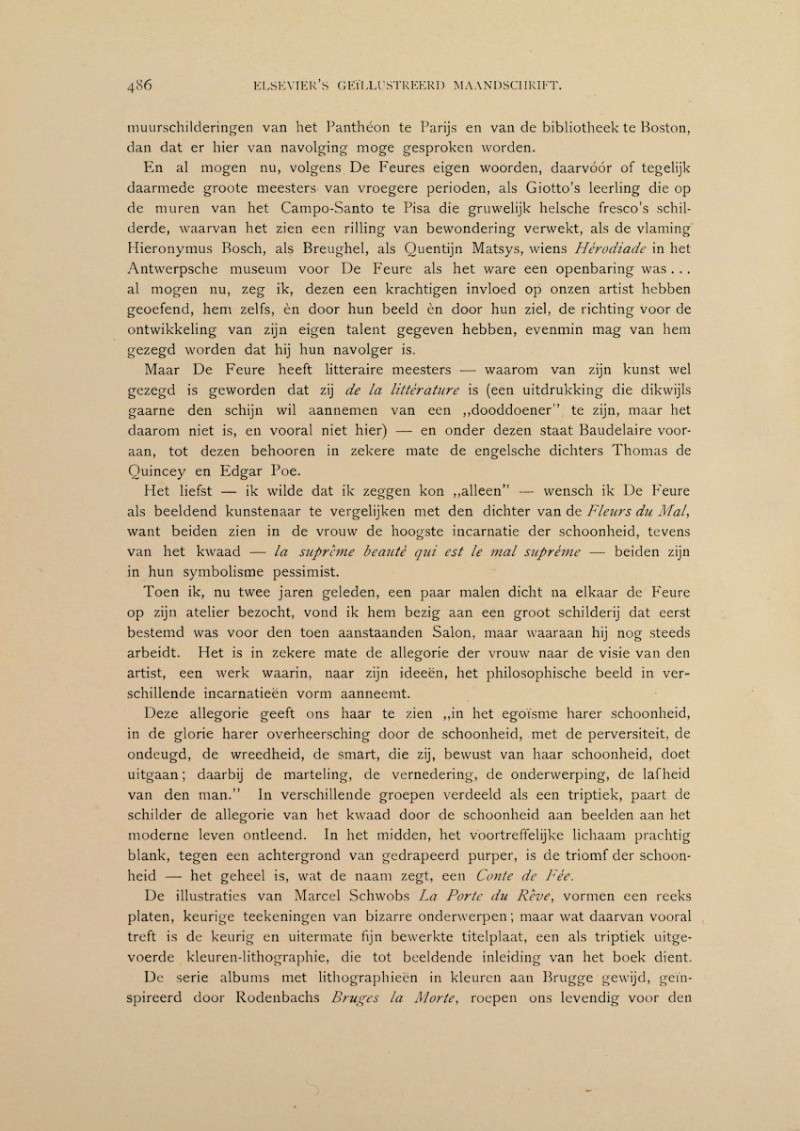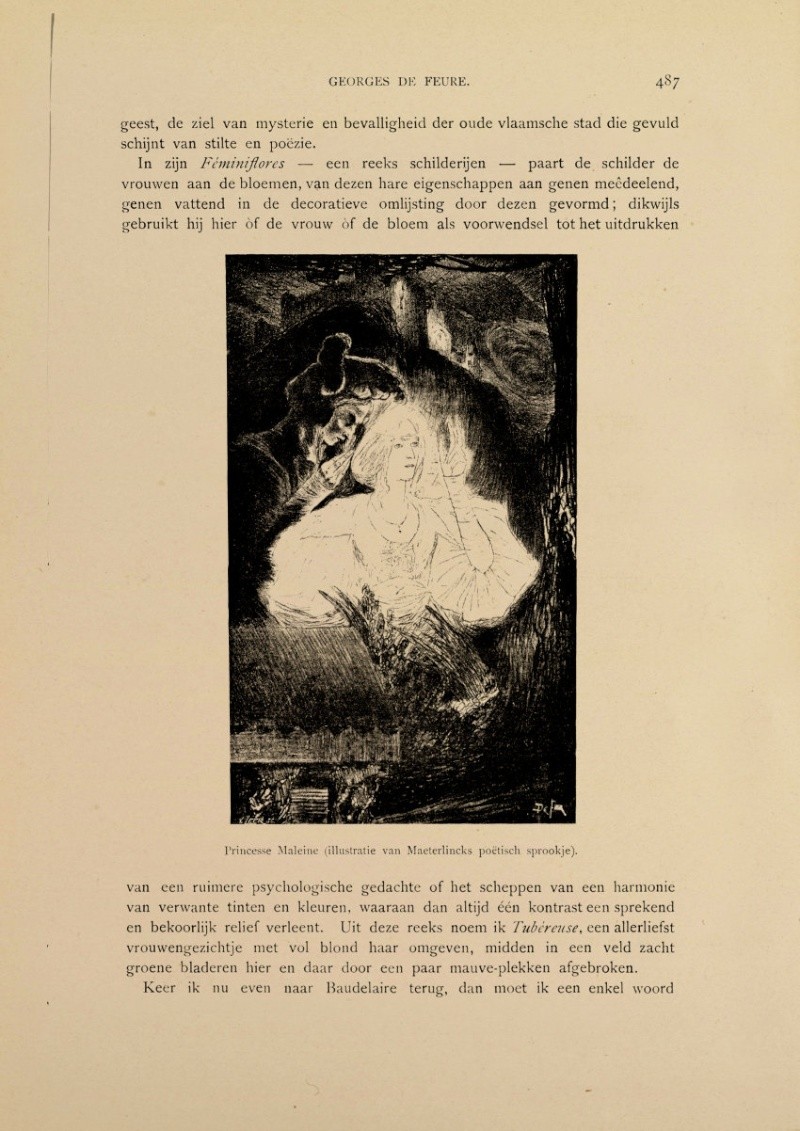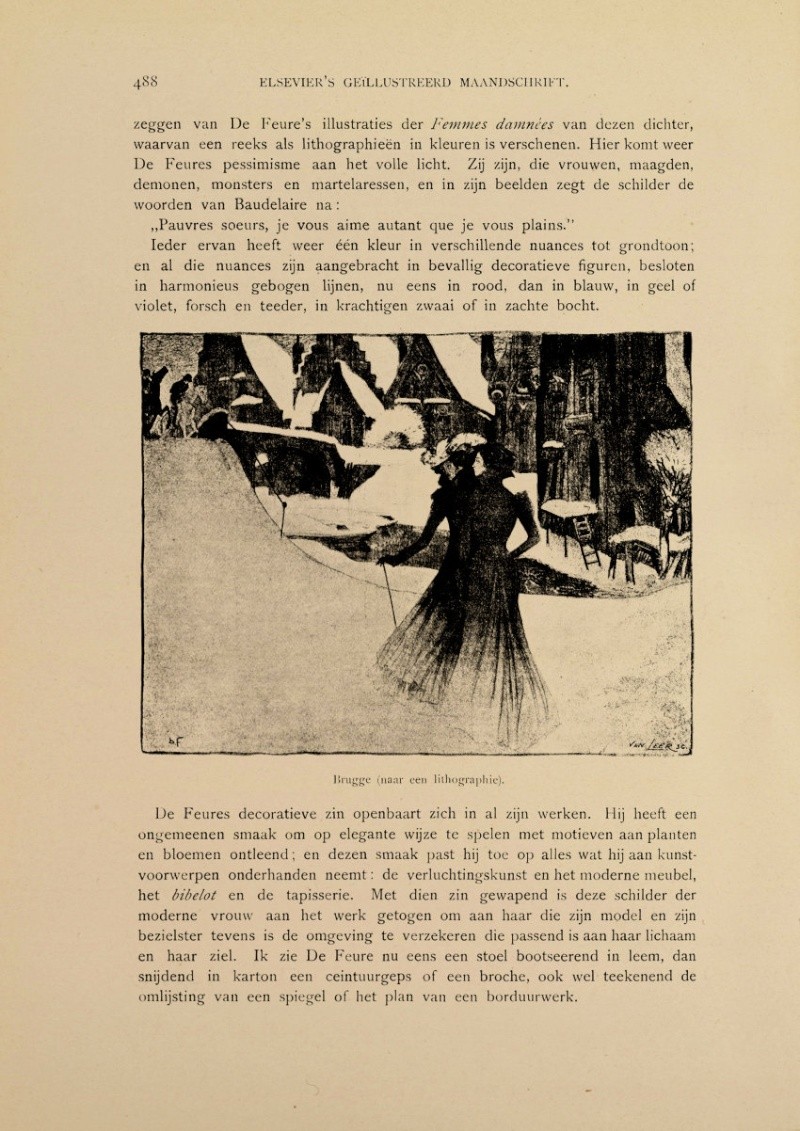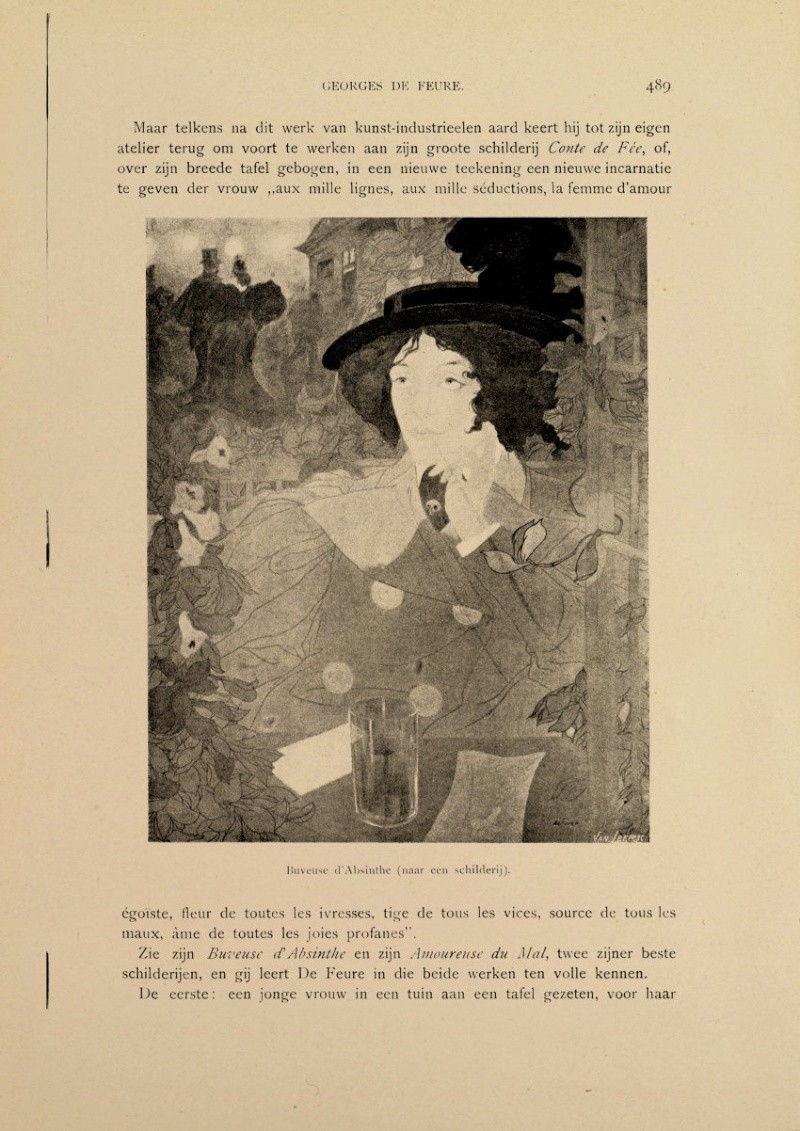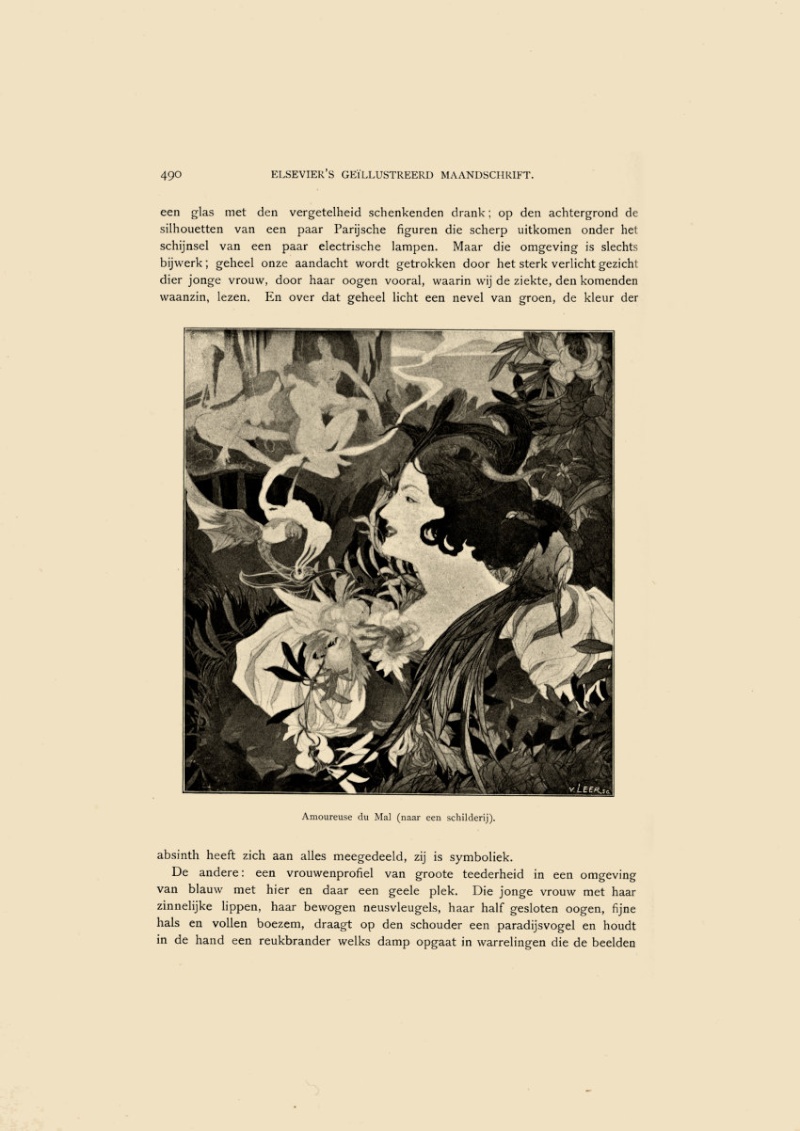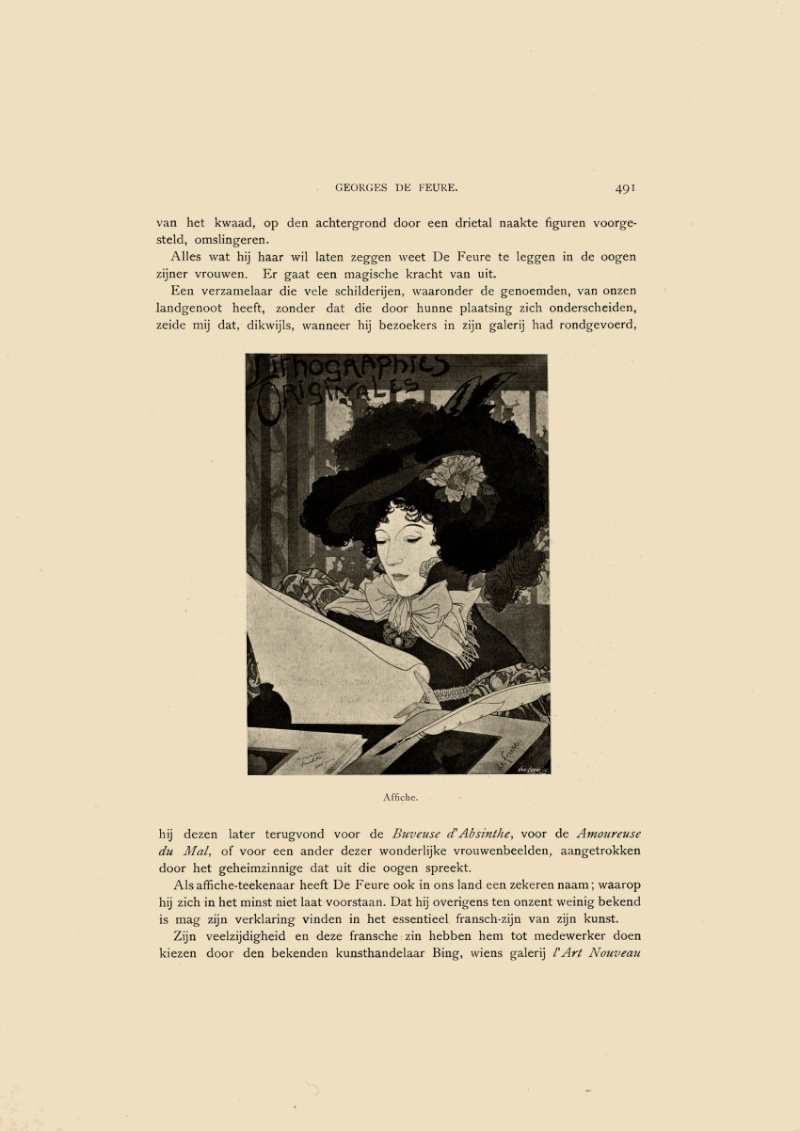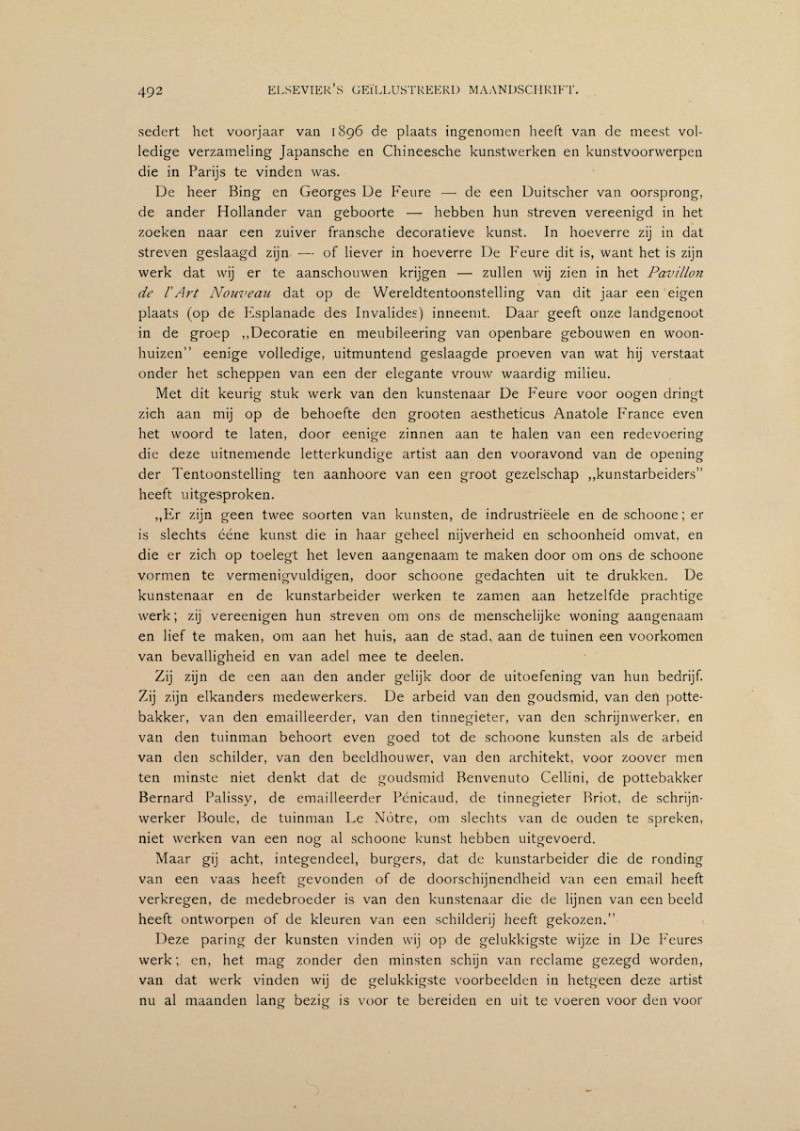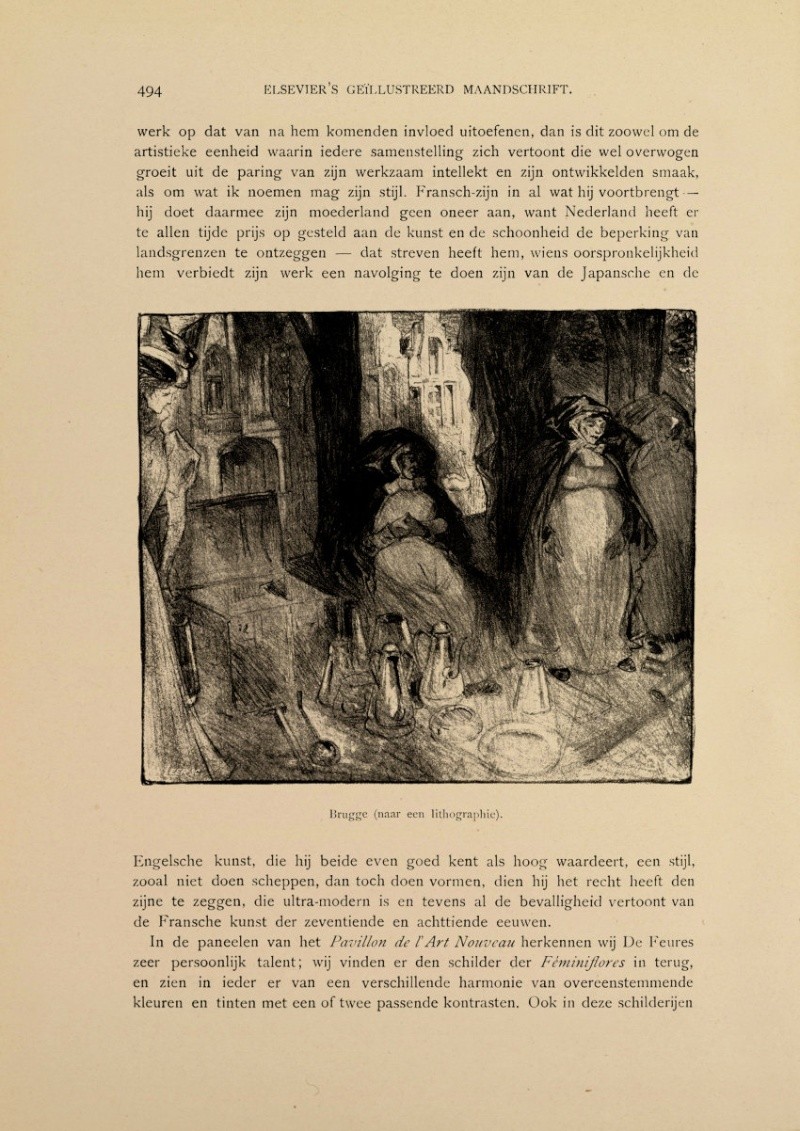 Bonjour Stella... et merci de diffuser cet article...
...heureusement, avec des illustrations
D'ailleurs, si vous avez des documents sur l'architecture du pavillon en lui-même, tel qu'il était aux Invalides en 1900, je serais très intéressé.
Je dois avoué qu'en dehors de 1 ou 2 photographies, je n'ai absolument rien.
Je suis loin d'y être dans le cadre de ma reconstitution de l'Exposition de Paris en 1900, mais vu la rareté des documents, il vaut mieux que je ne relâche pas mes recherches

LeMog




Posts

: 11


Join date

: 2008-07-17



C'est vrai
J'ai trouve un photo du Pavilion de l'Art Nouveau Bing sur l'Internet et c'est tous. Meme dans l'article il n'y a pas un description ou des photos, seulement qu'on retrouve vraiment le style de Georges de Feure dans le pavillion.
Georges de Feure, Pavilion de l'Art Nouveau Bing, 1900. Photograph. Paris, Bibliothèque des Arts décoratifs
Comme Georges de Feure est d'origine Hollandais, on a ecris cette article.... il y a rien sur les artistes art nouveau internationales a trouver dans l'archive de cette magazine... meme sur les artistes hollandaises du nouveau style (de nieuwe stijl) il y a peu ecrit....
Normallement, je recevra en Aout un livre de Alistair Duncan sur les mobiliers presentee a les salons de Paris. Si on a du change il y aura des photos du interieur du pavillion dedans. On verra..........
De tout facon j'adore la recherche... je fais mon meilleur pour trouver plus d'infos pour toi
Merci Stella... ce pavillon est quand même une petite énigme...
...il devait pourtant avoir également un intérêt esthétique... même "coincé" entre les quinconces des Invalides.
Je me rappelle en avoir vu une représentation couleur il y a quelques années... mais où ?
Les recherches continuent !
Il me faudra également trouver un peu de documentation pour celui-ci également, pavillon de la Céramique... très "style nouille"
Même s'il a quand même un peu moins d'intérêt, de part son contenu... mais ayant quand même une place "très" visible au Champ-de-Mars... près le Palais de l'Optique.
Ces 2 photos étant hélàs d'assez mauvaise qualité.

LeMog




Posts

: 11


Join date

: 2008-07-17



Les photos sont magnifique
Est-ce que vous avez trouver des informations sur la Fayence Fives-Lille de Gustave DE BRUYN?
Je ne sais pas si la fayence etait presentee a l'Exposition Universelle.
Je suis tres intresse pour plus d'infos sur les decors D-1184 et D-1185 (couleurs degradees jaune/ vert ou jaune/ rouge avec graphisme art nouveau/ deco) de Fives-Lille.
[img]
https://i.servimg.com/u/f67/11/97/44/73/d-118410.jpg[/img]
D-1184 modele 153
Last edited by stella on Sat Feb 14, 2009 4:23 pm; edited 1 time in total
Je viens de lire la livre Art Nouveau de Stephen Escritt dans le magasin de livre et il y a 1 photo du entree du Pavillion de Maison l'Art Nouveau Bing. On voit un panneau avec l'adresse "22, Rue de Provence" est affiche et le nom du Pavillion.
Si vous n'avez pas encore cette photo, je peut faire un copie du page....
Ce livre est un livre normal sur l'Art Nouveau avec information sur l'Art Nouveau, bien a lire mais rien de special: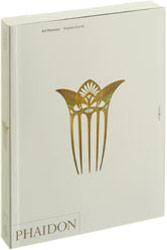 Art Nouveau - A study of Europe and America's boldest and most fashionable style - Stephen Escritt
Paperback - 160 x 220 mm, 6 1/4 x 8 3/4 in
448 pp
217 colour illustrations - 44 black and white illustrations
ISBN 0714838225 -
Phaidon
Comme je suis a la recherche de plus d'informations sur la Maison l'Art Nouveau Bing, j'ai aussi trouve un image du panneau de verre pour le Pavillon par Georges de Feure.
Normallement, on a utilise cette panneau pour l'exposition Bing.
La recherche continue....
The Pavillion d'Art Nouveau consisted of 6 rooms:

- Dressing Room - Georges de Feure
- Boudoir - Georges de Feure
- Vestibule - Eugene Gaillard
- Bedroom - Eugene Gaillard
- Dining-room - Eugene Gaillard
- Drawing room - Edouard Colonna

The dressing room was recreated by Bing for the Esposizione Internazionale d'Arte Decorativa Moderna held in Turin in 1902 and exhibited in the French Section.
Bonjour Stella...
désolé pour cette longue période de silence, ponctuée de vacances au soleil, mais aussi et surtout de travail sur le Projet Exposition 1900...
Hélàs de mon côté, pas de nouvelles informations...
...mais je veux bien un petit scan de la photo présente dans cet ouvrage
merci d'avance...
Laurent

LeMog




Posts

: 11


Join date

: 2008-07-17



Et j'etait a le bouquinerie avec mon appareil photo, mais le livre etait deja vendue...

Comme il y avait seulement un exemplaire, c'est chant....

J'etait en France dans le mois de Septembre et j'ai aussi vu cette livre chez le Furet. C'est possible que vous arriveras a le trouve vous-meme.

De toute façon je ferra attention pour retrouver le livre encore un fois pour faire un copie!!
Sometimes I surprise myself!! Trouve sur Internet :
Pavillon de la Céramique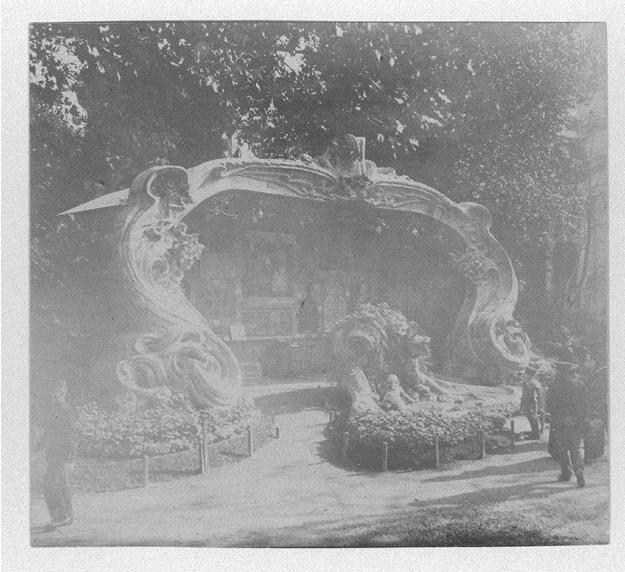 Aussi photo du mauvaise qualite, dsl!!
Description du photo :
Anonyme
Personnages dans un jardin
vers 1900
aristotype (épreuve au citrate)
H. 0.083 ; L. 0.09
Photo 2
- better quality then the 1 you allready have
Anonyme
Fontaine de Céramique Nord-Ouest
en 1900
épreuve argentique contrecollée sur carton
H. 0.055 ; L. 0.076
Photo 3
- better quality then the 1 you allready have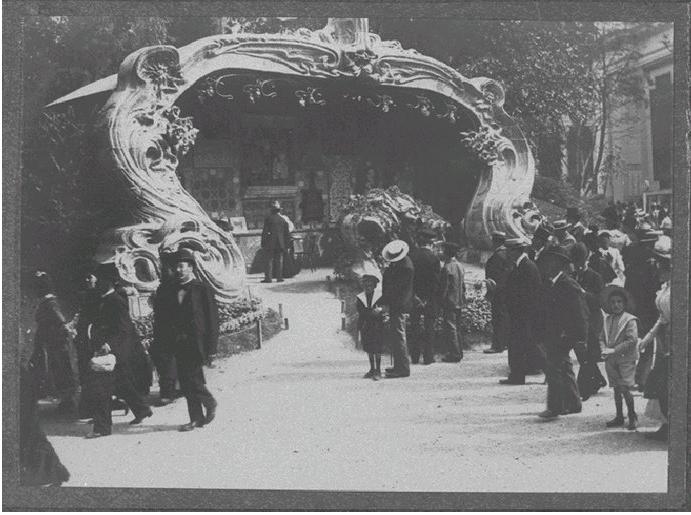 Anonyme
Fontaine de Céramique Nord-Ouest
en 1900
épreuve argentique contrecollée sur carton
H. 0.055 ; L. 0.076
Et encore un photo du Maison de l'Art Nouveau sur l'Exposition Universelle 1900:
Last edited by stella on Sat Feb 07, 2009 1:44 pm; edited 2 times in total
---
Permissions in this forum:
You
cannot
reply to topics in this forum