La maison de l'Art Nouveau - 1895 - 1904
Siegfried Bing
22 rue de Provence
Paris
1904 - La maison de l'Art Nouveau sold to Majorelle Freres
Artists working for l'Art Nouveau:
- Edouard Colonna (Furniture / Jewellery/ Tappistry / Metalwork)
- Georges de Feure (Furniture / Porcelain)
- Eugene Gaillard (Furniture)
- Alexandre Charpentier (Furniture - Membre Les Cinq)
- Jean-Auguste Dampt (Furniture - Membre Les Cinq)
- Felix Aubert (Posters/ Wallpaper - Membre Les Cinq)
- Anthony "Tony" Selmersheim (Furniture - Membre Les Cinq)
- Etienne Moreau-Nélaton (Posters/ Paintings - Membre Les Cinq)
The Maison de l'Art Nouveau ("House of New Art"), also known as the Maison Bing or most precisely L'Art Nouveau, was a gallery opened on on 26 December 1895, by Siegfried Bing at 22 rue de Provence, Paris. Unlike his earlier store at the same location and nearby at 19 rue Chauchat that specialised in Japonisme and imports from Asia, the gallery marked Bing's focus exclusively on modern art. The original exhibition featured windows designed by Nabi artists, including Henri de Toulouse-Lautrec, and made by Louis Comfort Tiffany. The fame of his gallery was increased at the 1900 Exposition Universelle, where he presented co-ordinated—in design and colour—installations of modern furniture, tapestries and objets d'art. These fully-realised decorative displays became strongly associated with an art movement that was spreading across Europe, and to which his gallery subsequently provided a name: Art Nouveau.
Source:
http://en.wikipedia.org/wiki/Maison_Bing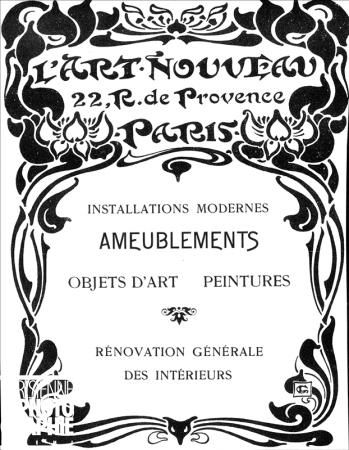 DE poster: George Lemmen, advertisement for L'Art Nouveau (from Dekorative Kunst, 1898)
De Parijse kunsthandelaar Siegfried Bing (1835-1905) vervulde een voortrekkersrol bij het vestigen van de aandacht op deze Nieuwe Kunst. In 1895 opende hij een kunstgalerie met de naam 'La Maison de 'L'Art Nouveau'.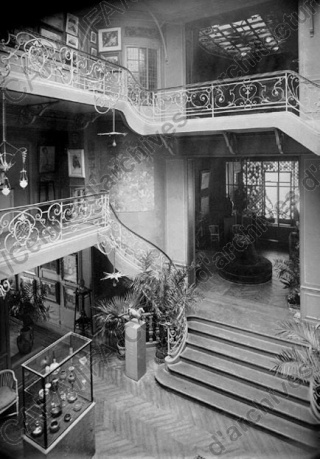 De uit Hamburg afkomstige Bing begon als verzamelaar van Chinese en Japanse kunst. De beschilderde kamerschermen, lakvoorwerpen, kimono's, waaiers, bronzen, keramiek en prenten gedecoreerd met vogels, vissen, bomen, bladeren en pauwenveren sloeg in als een bom en Japanse kunst werd onder de naam Japonisme in korte tijd enorm populair in het Westen. Siegfried Bings kunsthandel groeide uit tot een trefpunt waar 19de-eeuwse kunstenaars als Vincent van Gogh, Pierre Bonnard, Paul Gauguin en Henri Toulouse-Lautrec geregeld bijeenkwamen en kennis maakten met de Japanse kunst. De Japanse technieken, motieven, kleurgebruik en vlakverdeling werden vol enthousiasme door de jonge Westerse kunstenaars en architecten overgenomen. De Art Nouveau was geboren.
Doordat Bing veel steun had van kunstenaars kreeg hij toestemming om in de Parijse wereldtentoonstelling van 1900 een eigen paviljoen in te richten, het Pavillion Art Nouveau Bing. Hierin liet hij drie volledig in de moderne stijl ingerichte vertrekken zien. In dit Gesamtkunstwerk liet Bing het werk van toen nog onbekende ontwerpers zien, Georges de Feure, Edward Colonna en Eugène Gaillard, maar ook van de Belgische Henry van de Velde. Daarmee wist hij de kloof tussen de hogere beeldende kunst en de lager ingeschatte toegepaste kunst te overbruggen en leverde hij artistieke oplossingen voor het verfraaien en esthetiseren van de woonomgeving.
Georges de Feure, Pavilion de l'Art Nouveau Bing, 1900. Photograph. Paris, Bibliothèque des Arts décoratifs
Na het overlijden van Bing was zijn zoon Marcel Bing, hoewel hij een begaafd edelsmid was, niet in staat om de kunsthandel voort te zetten. In Maart 1905 sloot La maison de l'Art Nouveau zijn deuren.
Source:
http://www.sofidoc.be/bing.htm
http://wapedia.mobi/nl/Siegfried_Bing
Siegfried Bing sammelte zunächst chinesische und japanische Kunst, die großen Einfluss auf europäische KünstlerInnen des 19. Jahrhunderts hatte. Vincent van Gogh etwa erwarb bei Siegfried Bing eine Sammlung japanischer Holzschnitte. Mit der Idee, elegante Möbel im unverkennbaren Neuen Stil (Art Nouveau) herstellen zu lassen, überwand Bing die Kluft zwischen bildender und angewandter Kunst. Zudem lieferte er künstlerische Lösungen zur Ästhetisierung von Wohnräumen. Siegfried Bing gründet ca. 1897/99 eigene Werkstätten für die Herstellung von Möbeln und Schmuck. Parallel dazu stellte er die von seinen Künstlern gestalteten Entwürfe Fremdproduzenten zur Verfügung, die sie in größerer Stückzahl und Vielfalt herstellen konnten. Die Werkstätten bilden einen Höhepunkt im Streben Bings nach der Neubelebung des französischen Designs mit höchstem Anspruch an Qualität und Fortschrittlichkeit. Sein Tod im Jahr 1905 bedeutete das Ende eines Unternehmens, das große Bedeutung für Kunst und Design des 20. Jahrhunderts bekommen sollte.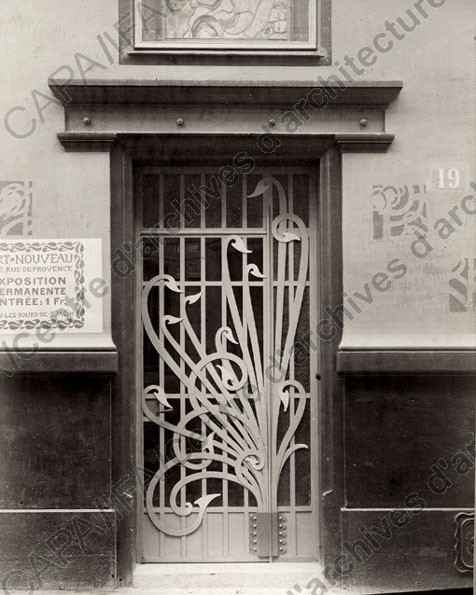 Collectionneur, critique d'art et marchand d'art, Siegfried Bing a joué un rôle central dans la diffusion de l'art japonais puis dans la propagation de l'avant-garde artistique de son époque à travers son rôle de galériste, en vendant ou en montrant les œuvres de Henry Van de Velde, William Morris, Toulouse-Lautrec, Tiffany, Rodin, Claudel, Villard et les créations artistiques de l'Art nouveau.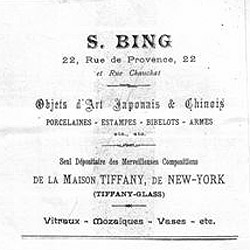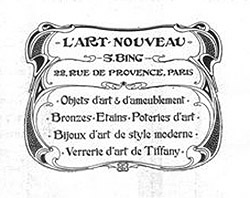 Advertisements for S. Bing (from 1re Exposition de H.G. Ibels, 1894)
Links:
Nineteenth-Century Art Worldwide
Last edited by stella on Sun Oct 05, 2008 5:52 pm; edited 2 times in total
Une publicité accompagnée d'une photographie...
Revue Art et Décoration - 1900.

LeMog




Posts

: 11


Join date

: 2008-07-17



---
Permissions in this forum:
You
cannot
reply to topics in this forum