Jugend
"Münchner illustrierte Wochenschrift für Kunst und Leben"
München
1896 - 1940
Founder : Georg Hirth
1900 - circulation of 200.000 copies per week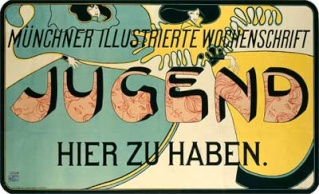 Jugend " Münchner illustrierte Wochenschrift für Kunst und Leben" war eine von Georg Hirth gegründete Kunst- und Literaturzeitschrift, die von 1896 bis 1940 in München erschien. Nach dem Tod Hirths wurde Franz Schoenberner zum Herausgeber. Chefredakteure waren u. a. Hans E. Hirsch, Theodor Riegler, Wolfgang Petzet. Neben den Textredakteuren, z.B. Fritz von Ostini oder Albert Matthäi, wirkte u.a. der Bildredakteur Franz Langheinrich.
Die Jugend war der Namensgeber der Kunstrichtung Jugendstil, was zeigt, wie wichtig das Heft für Kunst und Literatur der Jahrhundertwende war. Jedoch lassen sich Inhalt und Ausrichtung der Jugend auch in ihrer Hochzeit nicht auf das Label "Jugendstil" reduzieren. Neben modernen Illustrationen und Ornamenten spielten auch satirische und kritische Texte ein große Rolle im Heft.
Ab dem Ersten Weltkrieg wurde die Jugend zunehmend zu einer deutschnationalen und bayrisch-heimattümelnden Zeitung. Das änderte sich erst wieder ab Mitte der 1920er Jahre, als sich das Heft nochmals den Künstlern der jüngeren Generation öffnete und Texte von Kurt Tucholsky, Erich Kästner und Zeichnungen von George Grosz druckte.
Nach 1933 passte sich das Heft der völkischen Linie der Nationalsozialisten an. Dennoch wurde es 1940 eingestellt.
Künstler
* Karl Arnold
* Ernst Barlach
* Max Bernuth
* Arnold Böcklin
* Hans Christiansen
* Walter Crane
* Julius Diez
* Otto Eckmann
* Reinhold Max Eichler
* Erich Erler
* Fritz Erler
* Max Feldbauer
* Walter Georgi
* George Grosz
* Hugo von Habermann
* Josef Hegenbarth
* Th. Th. Heine
* Ferdinand Hodler
* Paul Hoecker
* Heinrich Kley
* Julius Klinger
* Max Klinger
* Alfred Kubin
* Franz von Lenbach
* Max Mayrshofer
* Adolf Münzer
* Leo Putz
* Karl Rössing
* Christian Schad
* Arpad Schmidhammer
* Max Slevogt
* Hermann Stockmann
* Paul Stollreither
* Konstantin Somoff
* Hans Thoma
* Albert Weisgerber
* Rudolf Wilke
* Heinrich Zille
Gallery :
http://www.jugendmagazine.net
Source: Wikipedia
Hans Christiansen
Jugend, revue illustrée hebdomadaire munichoise pour l'art et la vie est une revue illustrée hebdomadaire d'un rayonnement considérable autour des années 1900. Plus connue sous le simple nom de Jugend, en français « jeunesse », cette revue de langue allemande est généralement connue pour être l'organe de propagande du style éponyme, le jugendstil, variante germanique de l'art nouveau. Elle se présente sous un format à peu près équivalent à l'actuel A 4, comme un mélange de textes et d'images déclinés sous tous les tons, de la fable illustrée jusqu'à la caricature. Commençant de paraître en 1896 à Munich, alors métropole artistique de premier plan et foyer éditorial très actif, elle est un produit éditorial inédit se rattachant à différentes traditions de presse, de la très ancienne caricature aux toutes récentes revues d'art. Elle adopte depuis la capitale bavaroise un positionnement anti-wilhelminien, libéral, quoique patriote. Revendiquant une orientation programmatique ouverte à toutes les nouveautés esthétiques, sans hiérarchisation des genres, elle prétend porter une parole libre en toutes circonstances. Chaque semaine, elle propose un contenu impertinent, dont le ton est donné par une couverture bigarrée, sans cesse renouvelée, une innovation symbolisant son ambition de nouveauté constante. Tout ce que compte Munich d'artistes y participe.
Diffusée dans l'ensemble des pays germaniques, elle connaît d'emblée un succès considérable dans une large couche de la population plus ou moins en retrait avec les valeurs de l'Allemagne de Guillaume II. Le lectorat se laisse séduire par son orientation moderniste, plus radicale dans la posture que dans les faits, un constat qui vaut aussi bien pour les mots que pour les images. Son extraordinaire longévité parmi la pléthore de revues que compte l'Allemagne wilhelminienne - elle paraît jusqu'en 1940 - est à mettre au compte d'une politique commerciale agressive, alliée à un certain génie du compromis.
Elle atteint en 1910 son tirage le plus important avec 80 000 exemplaires.
Contenu comme destin de la revue sont du reste très liés à la personnalité de Georg Hirth qui imprime jusqu'à sa mort, en 1917, des visions progressistes à une direction collégiale qui le suit avec plus ou moins de zèle, n'évitant pas toujours les maux de l'époque, racisme, misogynie ou antisémitisme. A cette date, la revue qui a fait beaucoup de concessions esthétiques est démodée ; malgré des tentatives louables, elle ne recouvre jamais durant la République de Weimar sa splendeur passée. Lorsqu'elle cesse de paraître en 1940, après avoir fusionné avec une revue dédiée à la photographie, elle n'est depuis longtemps que l'ombre d'elle-même.
Source
Laurence Danguy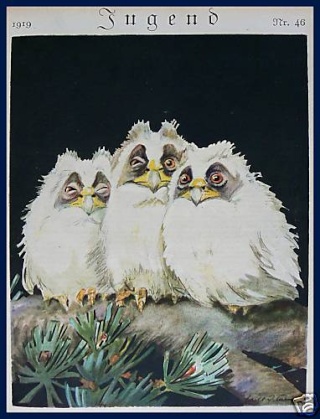 Die Jugend was een door Georg Hirth opgericht kunst- en literatuurtijdschrift, dat van 1896 tot 1940 in München verscheen. Enkele jaren na het overlijden van Hirth werd Franz Schoenberner uitgever van het blad.
Die Jugend was de naamgever van de kunststroming Jugendstil. Het blad viel op door de eigenzinnige opmaak in wat Jugendstil zou gaan heten en droeg bij aan discussies over esthetica. Naast de moderne illustraties en opmaak schonk het blad vooral aandacht aan satirische en kritische bijdragen over actuele maatschappelijke vraagstukken. Vaste auteurs waren onder meer Georg Bötticher, Franz Kunzendorf en de ook voor Simplicissimus werkzame Ludwig Thoma.
Al voor de Eerste Wereldoorlog werd Die Jugend toenemend vatbaar voor nationalistisch standpunten en verwerd steeds meer tot een provinciaal blad. Sedert het midden van de jaren 20 van de 20e eeuw kon het echter opnieuw een jongere generatie aantrekken. In 1927 werd Franz Schoenberner, die eveneens publiceerde in Simplicissimus, aangetrokken als redacteur. In die periode werden bijdragen van Kurt Tucholsky, Erich Kästner en tekeningen van George Grosz in het blad gedrukt en deed het zich weer gelden als een intellectueel scherp en kritisch tijdschrift.
Vanaf de machtswisseling in 1933 sloeg het blad, net als het weekblad Simplicissimus, een serviele koers ten opzichte van de nationaal-socialisten in. Desondanks werd de verschijning in 1940 verboden.
First appearing in 1896, "Jugend" was a general illustrated weekly magazine launched by Georg Hirth (1841-1916); its publication continued until 1940. Despite meagerness of each of its issues, composed of not more than 20 pages, the magazine enjoyed a spectacular success in turn-of-the-century Munich; with the novel and fashionable covers in a lithographic tone, it lavishly incorporated ample information on the clothes in vogue extending in Europe, witty caricatures, and advertisements of newest goods on the market.
The artistic movement "Jugendstil" owed its name to the "Jugend" magazine. Jugendstil literally means "style of youth" in German, and generically indicates the creative activities carried out in Munich by the young artists from the mid 1890's through around 1907. The artistic movement known generally as "Art Nouveau" spread to Germany and Austria, where it ended up being called by the German word.
Source: Wikipedia
---
Permissions in this forum:
You
cannot
reply to topics in this forum