Dear All,
Je suis a la recherche de plus des informations sur l'ebeniste francaise Paul GUTH.
Surtout plus des informations sur la travailleuse en anexe.
Je sais que 2 maisons d'encheres parisien on eu une travailleuse comme ce-ci en vent (avec signature) et j'ai un piece sans signature a la maison.
Looking for more information about the work of the french upholsterer Paul GUTH.
Specifecly more information about the attached Tea Table.
I know that it has been for sale at 2 auctions in France (signed) and I have 1 unsigned piece (signature not found).
https://i.servimg.com/u/f27/11/97/44/73/pg0610.jpg
https://i.servimg.com/u/f27/11/97/44/73/g0510.jpg
Thanks in advance! Merci bcp!
Stella
Last edited by stella on Mon Apr 14, 2008 9:17 pm; edited 1 time in total
Bonjour Stella,
je suis aussi à la recherche d'information sur l'ébéniste Paul GUTH. Cet artiste semble être trés confidentiel, je n'ai rien trouvé dans les livres. Avez-vous des infos depuis votre question ?
Mon oncle possède un petit bureau au motif ombellifères, avec signature.
Mais je ne vois pas de signature sur votre table à thé.
Merci pour votre réponse

PILU7983




Posts

: 1


Join date

: 2008-04-11



Bonjour PILU7983,
Correcte, jusqu'a aujourdhui je n'ai pas trouve le signature sur ma travailleuse. J'ai seulement trouve des refs chez les maisons de encheres Parisiens.
Il est tres difficile de trouver des informations sur Paul GUTH. Je vous envoyera par e-mail les informations et photos des signatures cette semaine (il faut que je met tous les infos ensemble dans un doc).
Normallement, chez les encheres, les mobiliers sont simplement catalogisee comme GUTH.
Je n'ai pas encore trouve une livre avec des infos intressante sur Paul GUTH. Meme chez le musee de Ecole de Nancy sur Internet on ne trouve pas des informations.
Est-ce que il est possible de me fait parvenir une photo du bureau et du signature de votre oncle? Vous pouvez simplement repondre mon e-mail avec les infos de GUTH.
Je veut faire des comparaisons avec les mobiliers des autres ebenistes pour voir s'on a utiliser un autre meuble comme inspiration.
Je vous tiens au courant sur tous les infos que je trouvera chez les encheres et dans des livres dans la future.
@+,
Stella
Info a savoir :
Please see this tea tray with sheep signed Guth.
If any one has any further information re this ebeniste i'd be happy to hear.
i tried to post my photos but without success.
Maybe you can email me direct for the images.
thank you
bobah

bobah




Posts

: 1


Join date

: 2008-09-12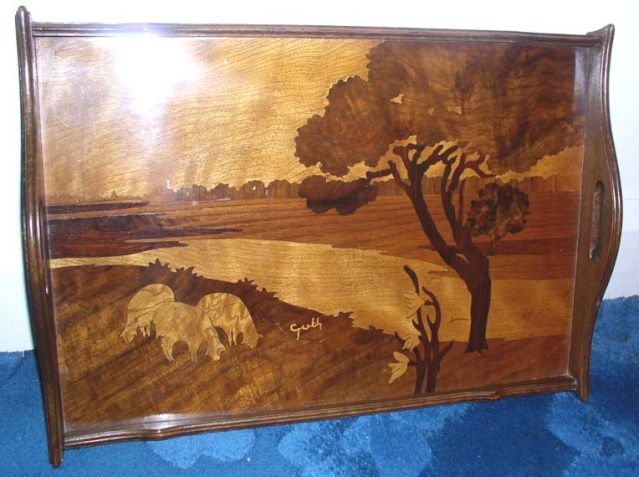 These are the photos of the tea tray with sheep.
Guth has made more of these trays with different scenes and I have send some photos in seperate e-mail to bobah for reference.
Similar trays have been made by Emile Galle, but I haven't encountered trays which have the same scene but different signature. Would be great if some one could send us an example!
Please find below 2 examples of sheep used by Emile Galle / Deux examples des moutons utilise par Emile Galle:
1) Two Tiers Table / Deux Tiers - these sheep closely resemble the sheep used by Guth, although the sheep in the middle is white instead of black and the tree is on the left and not on the right!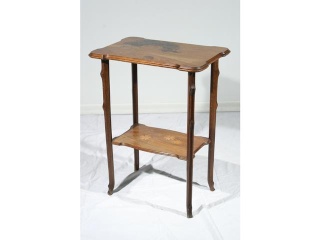 Signature GALLE on the table top on the right side.
2) Side Tables (second table shows the sheep) / Gigognes (Deuxieme table avec moutons)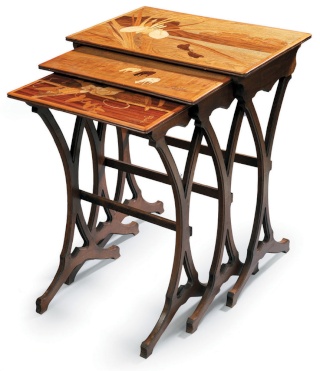 Signature GALLE on the table top on the right side of every table.
Biography for Paul Guth mentioned in a German Art Nouveau book :
Guth Paul, in Paris geboren, Maler und Entwerfer für Kunsthandwerk, 1907 gründete er ein Atelier für künstlerische Kleinmöbel, 1883-1921 auf Ausstellungen im Salon de la Société Artistes Francais vertreten
Translation :
Guth Paul, born in Paris, Painter and designer of Arthandwork, he started a studio for artistic small furniture in 1907, took part in the exhibitions of the "Salon de la Société Artistes Francais" from 1883-1921
Guth Paul, nee a Paris, peintre et createur des travail artisan, en 1907 fondateur d'un atelier pour des petites mobiliers d'art, il a fait parti des exposition du Salon de la Société Artistes Francais de 1883-1921
To make it more complicated, I also found a second firstname associated with GUTH: Jacques Guth
Some of you may have noticed that the signature of Guth, can show a J or a P in front of it.
- Jacques GUTH
- Paul GUTH
So the question is, what is the (family) link between Jacques Guth and Paul Guth or are they 1 and the same person ????
---
Permissions in this forum:
You
cannot
reply to topics in this forum