The Gueridon "Libellule" was designed for and introduced by Emile Galle on the Exposition Universelle 1900 - Paris.
Since then reproductions have been made, some examples:
Example 1
Example 2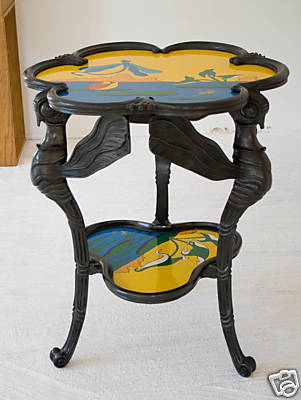 For more information, about these tables you can contact: KKO (redigebay@gmail.com)
Last edited by stella on Thu Jan 01, 2009 8:14 pm; edited 1 time in total
Example 3
- The inlay, showing a magpie, is an exact copy of a small round table with 4 legs made by Galle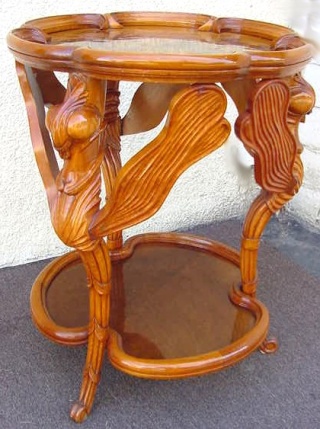 Because its a reproduction the original "GALLE" signature can't be copied, so the signature has been "adapted".
Example 4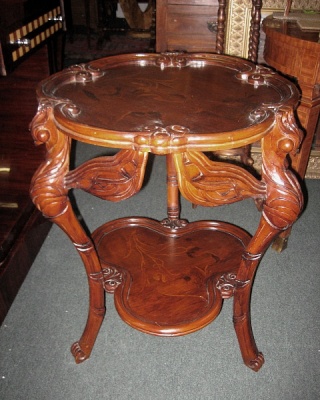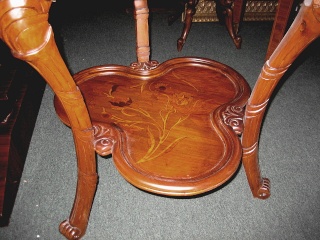 If needed, I have extra photos of these tables available!
Hi I know this is an old post but I want to buy a Emile Galle table but I don't Know if it is genuine or a reproduction, it is inlaid with a picture of a woodpecker in an oak tree I would really like to know what the underside of the reproductions look like, would you be able to help??
Hello!

Thanks for your post and request for information. I don't have photo's of the underside of the tables shown. I do have close up photo's! Just send me an e-mail via the envelop icon at the right side of this message, so I can send them to you.

Ofcourse you can also send me photo's (signature, inlay and photo of the complete table) via e-mail of the table you would like to buy for identificaton. I can have a look and let you know my thoughts.

Help is available!






For those interested, we have a Galle Hall Tree listed on ebay. It has one day left before the auction ends.

Similar topics
---
Permissions in this forum:
You
cannot
reply to topics in this forum