Ver Sacrum
1898 - 1903
Ver sacrum, qui signifie « Printemps Sacré » est une revue mensuelle, fondée par Gustav Klimt en janvier 1898.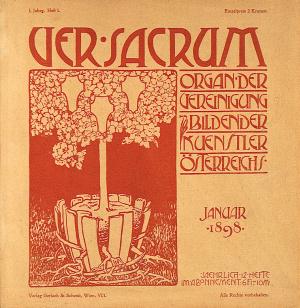 Cover of the first edition. Design by A. Roller, 1898.
Elle est le reflet, non seulement de la version autrichienne de l'Art nouveau, appelée Sezessionstil mais aussi celui de toute une époque avec ses illustrations.
Le titre provient d'un poème de Ludwig Uhland.
La revue décline après le départ de certains de ses fondateurs : Klimt, Koloman Moser et Josef Hoffmann
Dans le neuvième numéro, en relation avec la VIe exposition de la Sezession, Moritz Dreger retrace l'histoire de mille ans d'art japonais.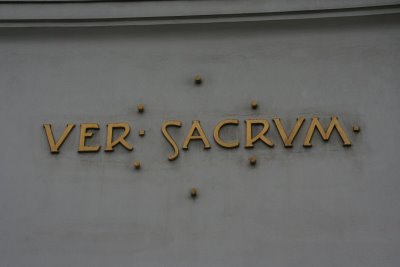 Cette inscription est également située sur le côté gauche du bâtiment de la Secession à Vienne et est un hommage à l'antiquité : elle fait référence à un rite consistant, chaque nouveau printemps, à pousser les jeunes hors de leurs cités afin qu'ils puissent eux-mêmes fonder la leur. Ce rite était placé sous le signe de Mars, dieu des arts de la guerre, car l'installation dans une nouvelle patrie ne se faisait jamais sans quelques batailles.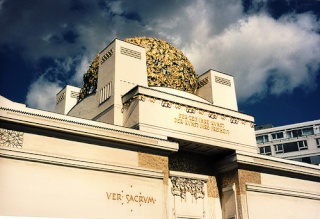 The secession building at Vienna, built in 1897 by Joseph Maria Olbrich for exhibitions of the secession group.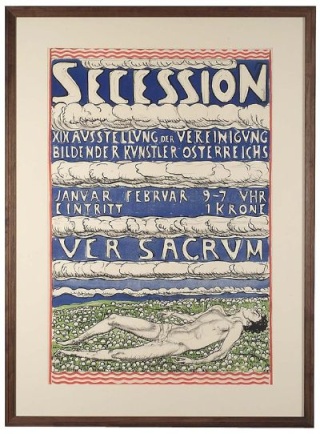 Ver Sacrum, major Austrian magazine of the Jugendstil period, mouthpiece of the Vienna Secession published from January 1898 to October 1903 (monthly until 1899, then bi-monthly), owing to its mix of articles on art theory and practical examples and contributions by both domestic and foreign authors, the publication gained great influence on art production around 1900. The artistic layout lay in the hands of artists of the Vienna Secession and frequently presented original printed graphics (especially by G. Klimt, K. Moser, J. Hoffmann and A. Roller), numerous numbers were in the form of monographs and thus familiarised a broad readership with the works of individual artists who were playing an important role in the development of modern art. After 1900, Ver Sacrum was only published as an internal information journal for members of the Vienna Secession.
Voor de Oostenrijkse Art Nouveau-drukkunst was het middelpunt het tijdschrift Ver Sacrum, het officiële orgaan van de Wiener Sezession. Dit tijdschrift had een uitgesproken bibliofiel karakter: originele grafiekbladen, speciaal voor het tijdschrift ontworpen illustraties, subtiele lineaire ornamentaties, terwijl het verfijnde esthetische karakter werd verhoogd door zachtgekleurde druk verrijkt met gouddruk(264). De in de Art Nouveau-stijl nagestreefde eenheid tussen tekst en illustratie werd hierin wellicht op de meest geslaagde wijze gerealiseerd: de metaforen in tekst werden onmiddellijk omgezet in illustratieve motieven die de bladspiegel sierlijk omlijstten, zoals o.m. blijkt bij de gedichten van Ferdinand von Saar, Arno Holz en Rainer Maria Rilke(265). Een hoogtepunt van verfijnde Art Nouveau-illustratiekunst en typografie werd hier tevens bereikt in de door Ver Sacrum uitgegeven kalenders en in de kinder- en sprookjesboeken van de uitgeverij Gerlach und Schenk te Wenen(266). De leidinggevende figuur in Ver Sacrum was Gustav Klimt die talrijke omslagen en illustraties voor het tijdschrift ontwierp. Andere medewerkers waren Josef Hoffmann, Kolomann Moser, Josef Maria Auchentaller, Alfred Roller, Ferdinand Andri, Friedrich König, Adolf Böhm, Leopold Stolba, Nora Exner, Rudolf Jettmar, Max Kurzweil, Emil Orlik.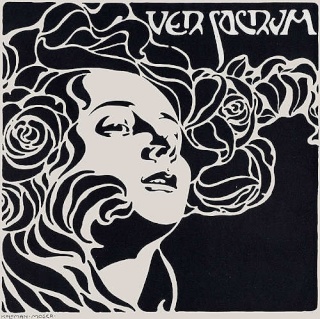 Similar topics
---
Permissions in this forum:
You
cannot
reply to topics in this forum