PAN
1895-1900
Otto Bierbaum and Julius Meier-Graefe
Berlin: Pan and F. Fontane
Editions; 21 volumes with 110 original graphic work
With works by; Paul Signac 'Le Soir', Maurice Denis 'Maternite au Cypres', Kathe Kollwitz 'Begrüssung', Cross 'Champs Elysee', Behrens 'Der Kuss', Kirchner, Steinlen, Klinger, Rodin, Signac, Luce, van de Velde, Vallotton, Van der Velde and others.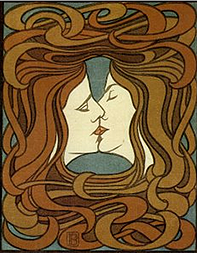 Peter Behrens, The Kiss, 1898, Pan Magazine
PAN war eine Kunst- und Literaturzeitschrift, die von 1895 bis 1900 in Berlin erschien und von Otto Julius Bierbaum und Julius Meier-Graefe herausgegeben wurde.
PAN gilt als das wichtigste Organ des Jugendstils in Deutschland. Die Zeitschrift druckte zahlreiche, von bekannten, aber auch von noch unbekannten jungen Künstlern entworfene Illustrationen. Dazu kamen ganzseitige Originalgrafiken, eine schlichte, moderne Typografie sowie Vignetten und andere Zierelemente. Zu den bekanntesten Künstlern des Heftes gehörten Franz von Stuck, der das Bild für das Titelblatt der Erstausgabe beisteuerte, Félix Vallotton, dessen Holzschnitte durch PAN erst bekannt wurden sowie Thomas Theodor Heine.
Literarisch fanden sich in PAN Erzählungen und Gedichte, die dem Symbolismus, dem Naturalismus, dem Impressionismus zugeordnet werden können. Daneben traten viele Werke, die unter keinen Epochenbegriff sortiert werden können. Die Zeitschrift verkörperte die Anfänge der literarischen Moderne in ihrer ganzen Vielfalt wie auch Widersprüchlichkeit. Zu den wichtigsten Autoren gehörten neben Otto Julius Bierbaum, Max Dauthendey, Richard Dehmel und Arno Holz.
1910 wurde PAN als Halbmonatsschrift unter der Leitung des Berliner Kunsthändlers und Verlegers Paul Cassirer neu begründet. Alleiniger Herausgeber war ab 1912 Alfred Kerr, zwischen 1913 und der endgültigen Einstellung 1915 erschien die Zeitschrift nur mehr unregelmäßig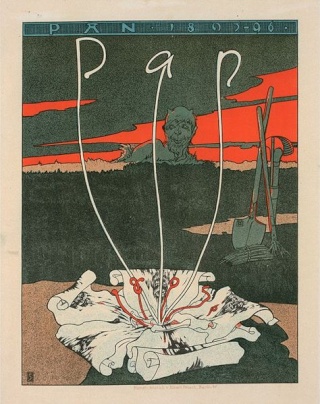 Werbeplakat 1895/96 von Joseph Sattler
Pan was an arts and literary magazine, published from 1895 to 1900 in Berlin by Julius Otto Bierbaum and Julius Meier-Graefe. The magazine was revived by Paul Cassirer in 1910, published by his Pan-Presse.
Pan played an important role in the development of Art Nouveau in Germany. The magazine printed a number of illustrations by both well-known and unknown young artists. Among the best-known artists who contributed to the periodical were Franz von Stuck, Felix Vallotton, and Thomas Theodor Heine.
Pan also printed stories and poems, in the emerging Symbolist and Naturalist movements; authors published included Otto Julius Bierbaum, Max Dauthendey , Richard Dehmel and Arno Holz.
Under Cassirer contributors included Frank Wedekind, Georg Heym, Ernst Barlach, and Franz Marc. Alfred Kerr took over the publication of the magazine in 1912 and it appeared only sporadically until its demise in 1915.
---
Permissions in this forum:
You
cannot
reply to topics in this forum