Majorelle Freres & Cie Meubles d'Art - Paris / Nancy / Lille / Lyon
La production des meubles et ensembles mobiliers de Louis Majorelle se fait sur un mode mi-industriel, mi-artisanal et est diffusée essentiellement par les magasins de vente (Nancy, Paris, Lyon et Lille) et par les catalogues commerciaux largement distribués.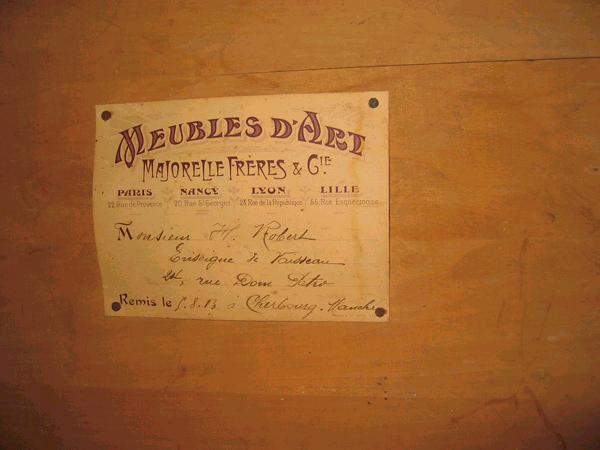 1879 - Reprise de l'entreprise familiale de céramique et d'ébénisterie par Louis Majorelle (1859-1926) avec son frère Jules. Apres le décès de son père, Auguste Majorelle, l'oblige à revenir à Nancy.
1892 - Création, par Louis et Jules Majorelle (1866-1934), de la société Majorelle Frères
1898 - Ouverture d'un magasin de vente sur le Rue de Paradis a Paris de Louis Majorelle
1902 - Ouverture d'un magasin de vente de Louis Majorelle à Lyon.
Autres dépôts ouverts par Majorelle à Lille, Marseille, Berlin et Londres
1904 - Achat du magasin L'Art Nouveau à Paris par Louis Majorelle, transformé en lieu d'exposition et dépôt de
verreries Daum et de céramiques Mougin
1905 - Atelier Majorelle à Bouxières-aux-Dames dirigé par Pierre Majorelle (1867-1929) pour la production de meubles courants
1916 - 1917 Destruction des ateliers nancéiens en novembre 1916 (incendie accidentel) et
bombardement du magasin de la rue Saint Georges en octobre 1917
1956 - fermeture magasins
After Louis Majorelle died in 1926, Alfred Lévy became director of Maison Majorelle, which continued to make expensive and elaborate as well as more modest and reasonably priced objects. The firm closed down in 1956.
* MAJORELLE Décorateur 124 rue de Provence Paris
Magasin de la rue de Provence pour l'exécution des balcons et des grilles d'appui des fenêtres de façade, de la rampe de l'escalier d'honneur intérieur, ainsi que l'aménagement et l'ameublement d'une grande partie des appartements privés.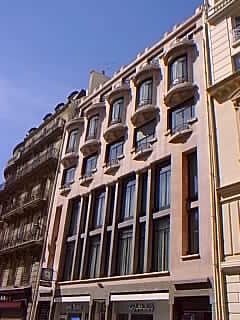 Le batiment (architectes Henri Sauvage et Charles Sarrazin, 1913); l'architecte joue uniquement sur la différenciation entre les étages, qui indique leur fonction : façade monumentale au 1er et 2è étage pour les galeries d'exposition, bow-windows arrondis plus intimes pour les bureaux des 3è et 4è, larges ateliers de fabrication tout en haut.
Source:
www.artnouveau-net.eu
l'Ecole de Nancy
Similar topics
---
Permissions in this forum:
You
cannot
reply to topics in this forum