Dear All,
I have started this Message Board because on the Internet there doesn't seem to exist a Message Board specificely for Art Nouveau / Jugendstil / Arts & Crafts / Secession discussions.
J'ai commence ce Message Board parce que sur Internet il me semble qu'il n'existe aucun Message Board sur l'Art Nouveau / Jugendstil / Arts & Crafts / Secession.
Alternative names:
Spaghettistijl (NL)
Style Nouille (FR)
Slaoliestijl (NL) after the famous poster made by Jan TOOROP for "NOF Delftsche Slaolie"
Style Horta (BE) after Victor HORTA
Style Metro (BE)
Modern Style (UK)
Liberty Style (UK) after Liberty en Co.
Glasgowstijl (Schotland)
Stile Liberty (IT)
Stile Floreale (IT)
Sezessionstil (Austria)
Nieuwe Kunst (NL)
Secession (Austria)
Seczession (Tsechoslovakia)
Münchener Sezession (DE) Franz von Stuck
Modernisme (ES)
Stil Modern (RU)
The goal is to have a Message Board where people can discuss there favorite pieces or where they can find out more about there own objects.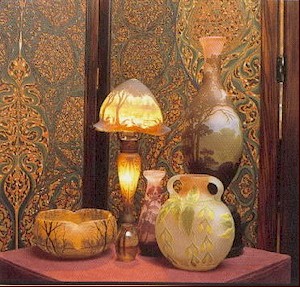 J'espere que ce Message Board peut offrir les gens une Message Board pour avoir des discussions sur leur objets favoris ou pour apprendre plus sur leur objets.
You can leave messages in English/ French/ German/ Dutch/ Spanish or Italian. If needed I will post a translation!
Vous pouvez mettre des messages en Anglais/ Français/ Allemand/ Hollandais/ Espanol ou Italien. Si neccesaire je fera un traduction!
If you post a request for more information about an object, please make sure that the description is clear and the more information the better; signature, stamps, colours, sizes, etc.
Si vous mets une demande pour plus d'informations sur un objet, svp de donne tous l'information possible; signature, cachet, coleurs, dimensions, etc.
I have an extensive library including images of items sold around the world; Catalogues/ Books / Internetsites/ Auction Houses in France, USA, Holland, Germany, etc. and will do my best to help identify your object!
J'ai un bibliotheque des images des objets vendu partout dans la monde: Catalogues / Livres/ Site Web/ Vente au Encheres en France, USA, Pays-Bas, Allemand, etc. Je fera mon meilleur pour vous aider a identifier votre objet!
Some of the artists on which I have information available :
Aime
Charles-Victor-Edouard Albrizio
Edmond Alet
Maurice Alet
Maurice- Albert Alleaume
Alexis Andre
Emile Andre
Albert Angst
Pierre Ansart
Eugenio Arneodo
Edmond-Jean-Marie Ausseur
Clotilde Aveline
Paul-Louis Baigneres
Edouard Bajot
Balard
Ernesto Basile
A Bastet
Emile Bastien-Lepage
Gaspard Baumann
Louis Baumann
Anna Baumeister
Leon-Henri Bec
Paul Bec
Edmond-Henri Becker
Henri Jules Ferdinand Bellery Desfontaines
Eugene-Auguste Belville
Edouard Besle
Leon Benouville
Emile Bernaux
Rene Berthomier
Lucien Bertrand
Maurice Biais
Louis Bigaux
Alexandre Bigot
Raymond- Pierre Bigor
Samuel Bing
Edgar Brandt
Maison Bruzi
Carlo Bugatti
Juan Busquets
Leon Caillet
Francois Rupert Carabin
Paul Cauchie
Leon Cauvy
Alexandre Charpentier
Jules Cherbonnier
Edouard Colonna
Eugene Colonna
Giacomo Cometti
Adolphe Crespin
Jean Auguste Dampt
Albert Darras
Georges De Feure
Adrien Delovincourt
Louis Delespierre
Charles Guillaume Diehl
Edouard Diot
Guillaume Dubuffe
Maurice Dufrene
Paul Dumas
Vincent Epeaux
Emma Fanty-Lescure
Charles Fridrich
Gaignant
Eugene Gaillard
Emile Galle
Camille Gauthier
Jacques Gruber
Hector Guimard
Paul Guth
Paul Hankar
L Hazard
Auguste Herbst
Louis Hestaux
Georges Hobe
Georges Hoentschel
Joseph Hoffman
Victor Horta
Paul Iribe
Alberto Issel
Leon Jallot
HF Jansen
Christian Krass
Edmond Lachenal
Abel Landry
Agostino Lauro
Maison Lebrun
J Le Coeur
Elie Le Goff
Legras
Lucien Levy Dhurmer
Lucien Magne
Louis Majorelle
Mansuy
Albert Marque
Clement Massier
Jacques Nam
T Nieuwenhuis
Joseph Marie Olbrich
Pander
Bernhard Pankok
Charles Plumet
Paul Poinsignon
Victor Prouve
Eugenio Quarti
Ragnel
Gustave Raynal
Richard Riemerschmid
Saint Gilles
Henri Sauvage
Franck Scheidecker
Seguin
Anthony "Tony" Selmersheim
Pierre Selmersheim
Gustave Serrurier-Bovy
Leon Smeyers
Louis Sorel
Albert Tassu
Frederico Tesio
Thonet
Vittorio Valabrega
Eugene Vallin
Jacques van de Bosch
Henry van de Velde
Oscar van de Voorde
Gabriel Viardot
Chris Wegerif
Winkelman & Bijl
Carlo Zen
Offcourse you are also allowed to send me an e-mail directly. All information shared via e-mail will be kept confidential.
have fun!!
Yours truly, @+,
Stella
Please do NOT post personal information, such as house adresses and telephone numbers,etc. openly on the message board!
---
Permissions in this forum:
You
cannot
reply to topics in this forum